Building in public is a concept that I've heard many people talking about. Ali Abdaal, Eric Siu, MedDiCC, Clark Kegley, and so many more youtubers and bloggers reference this technique for generating engaging content while building an audience. And thus I'll be attempting one or two building projects here on my site.
Habit tracker. Atomic habits, tiny Habits, a number of books have been written about the power of incorporating small, manageable habits into your daily routine. The general idea is these habits are behaviour micro-modification patterns, which incrementally adjust behaviour in desired direction. The bottom line is, if you'd like to change your behaviour but find it overwhelming, adjusting to a micro-habit is the solution for you.
Some of the habits I recognise the value of and would like to incorporate into my daily routine are: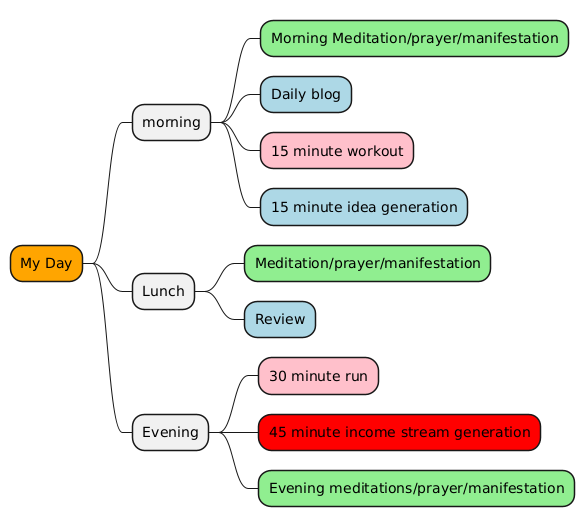 Yes indeed. I'm starting small. Laugh as much as you want.
#todo – Post on manifesting
#todo – 15MinuteWorkout
#todo – 15MinuteIdeaGeneration
#todo – StreamGeneration
#todo – HabitTracker
Technical

@startmindmap
skinparam backgroundColor transparent
+[#Orange] My Day
++ morning
+++[#lightgreen]  Morning Meditation/prayer/manifestation
+++[#lightblue] Daily blog
+++[#pink] 15 minute workout
+++[#lightblue] 15 minute idea generation

++ Lunch
+++[#lightgreen]  Meditation/prayer/manifestation
+++[#lightblue] Review

++ Evening
+++[#pink] 30 minute run
+++[#red] 45 minute income stream generation
+++[#lightgreen]  Evening meditations/prayer/manifestation

@endmindmap